Overview
Introduction of the challenge
The European Space Agency (ESA), in partnership with Microsoft and Thales Alenia Space (TAS), is inviting individuals and teams to participate in the #OrbitalAI Challenge IMAGIN-e track (ISS Mounted Accessible Global Imaging Nod-e).
In late 2023, an edge compute testbed will be launched to the International Space Station (ISS). This testbed will have visible and hyperspectral sensors to demonstrate and validate technologies for multiple remote-sensing applications.
By joining the #OrbitalAI Challenge, you, the next-generation developers can experiment with different onboard computing solutions and potentially find new ways to process and analyse data in space. The challenge offers a unique opportunity to advance the field and test computationally demanding workloads that will benefit from high-performance edge computing architecture. Don't miss your chance to be a part of the next wave of innovation for in-orbit data processing. Join the #OrbitalAI Challenge today!
The Prize
Two teams will get the opportunity to have their solutions running onboard the ISS, meaning that their solution will be launched into space and have an in-orbit demonstration of their concept!
Those two teams will be selected from a total of the ten best teams coming out of Phase I of the competition. But that's not all! The ten teams besides having the chance of flying their solutions onboard the ISS will receive a range of exciting prizes. From invitations for visiting researchers to vouchers for computation or access to premium data, we have something for everyone. The complete pool of prizes will be announced in the following weeks, so stay tuned for more details.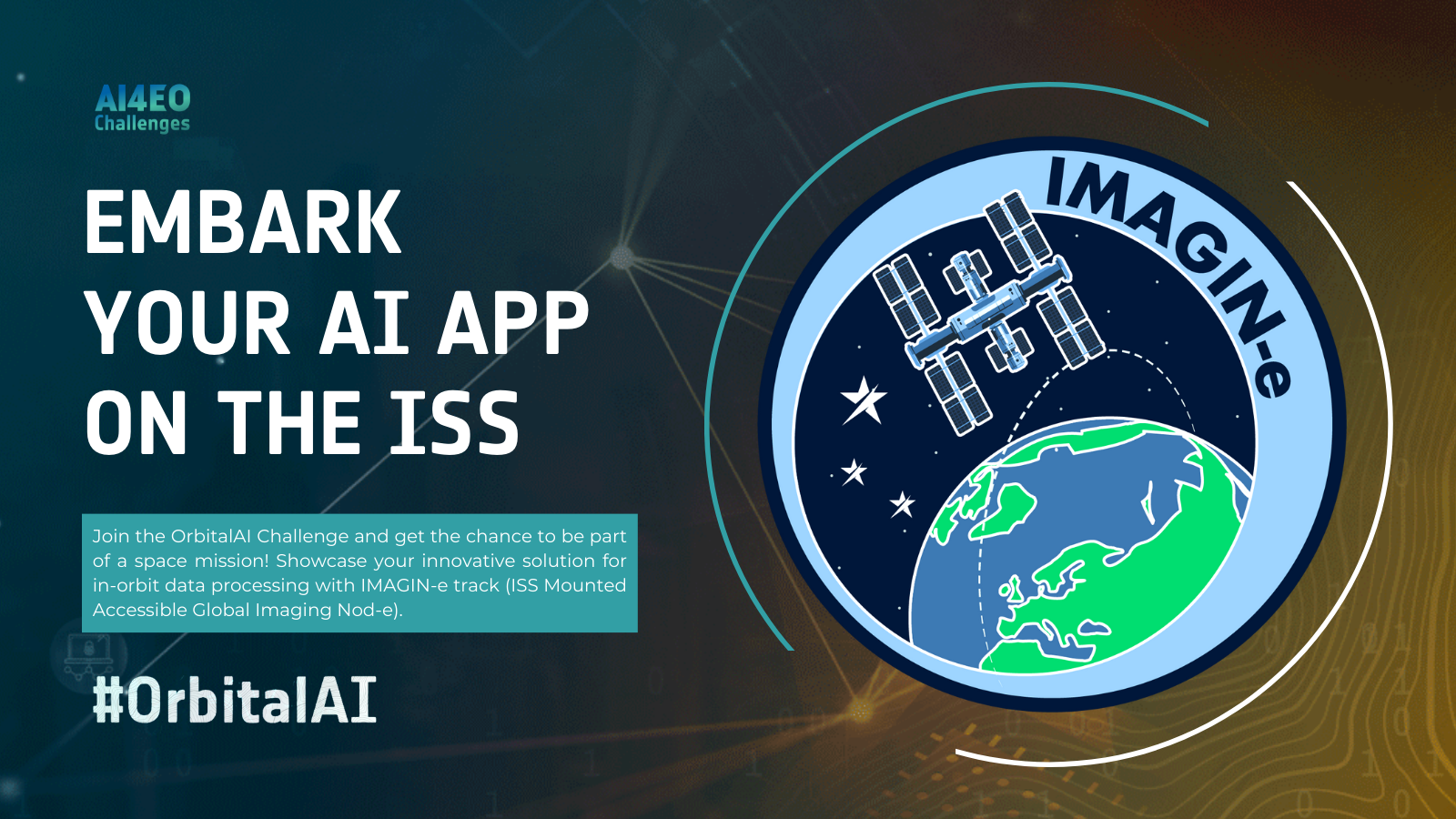 Who can participate?
Any person, start-up, or large enterprise with an innovative mindset and ideas is invited to join this track of the OrbitalAI Challenge.
Age
All participants must be 18 or older to be eligible to participate in the OrbitalAI Challenge.
Team
Teams must consist of a minimum of 2 and maximum of 5 people.
Geography
Applications will be accepted from anywhere in the world. For full information about the conditions of being part of the top ten winners, check our Rules section.
Important dates
Phase I: The open competition
Duration: February – June
During Phase I, participants will submit their best solution in the form of a Jupyter Notebook together with a PowerPoint presentation, saved as a .pdf file, and a pitch video of their solution.
After the first phase 10 teams will be selected for the next stage.
Phase II: Incubation & production release
Duration: July - October
During the second phase, the selected teams will work on their solution together with Microsoft and Thales Alenia Space. The solution will be integrated with the Microsoft Azure Orbital Space SDK and verified on the conditions and configuration of the hyperspectral camera on the ISS.
At the end of this phase 2 teams will have their solution launched into space.
The journey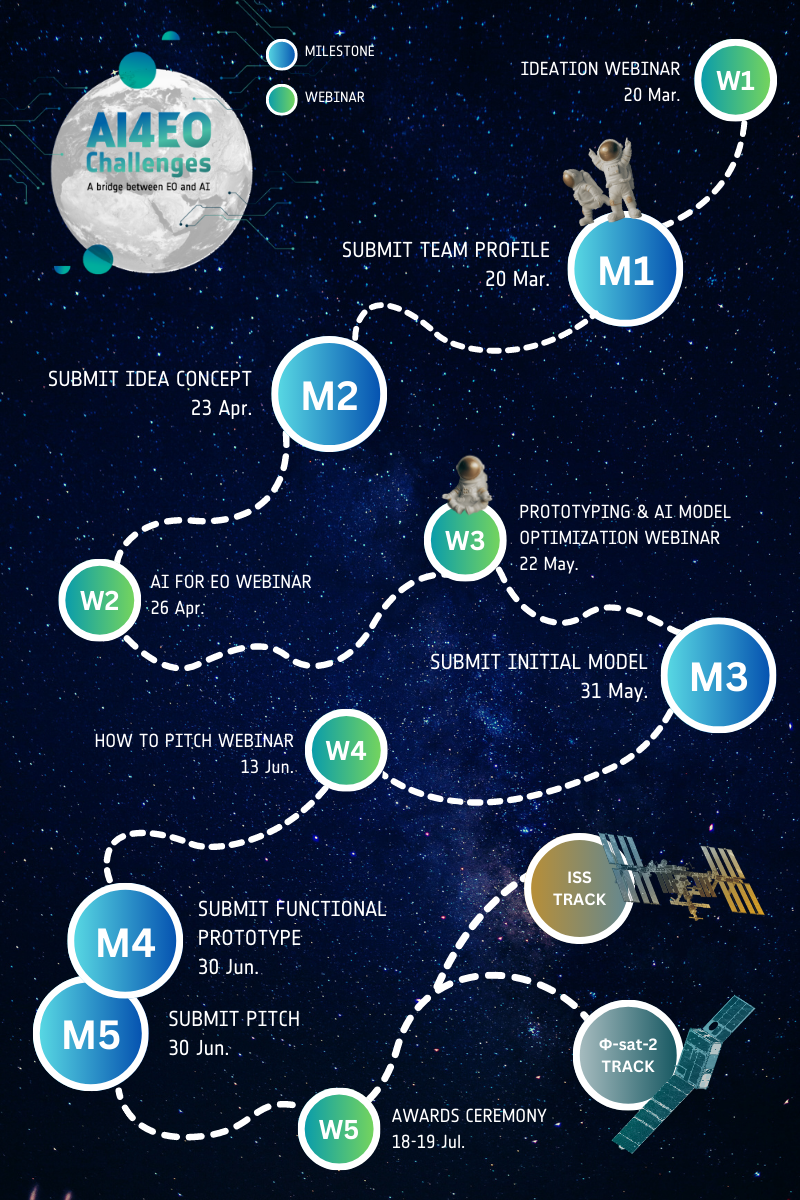 Throughout the challenge, we are offering participants the chance to win exclusive space-themed swag. These first 3 milestones are checkpoints along your journey to building a winning solution and will focus on various components of your project such as team composition, idea concept, initial model description and prototype.
Stay on track and submit your challenge milestones in time to be eligible for the chance to win limited edition space swag. Get in on the action and put your skills to the test!
Mileston 1 - Team profile
Worth: 200 credits
Deadline: 24 March
We want to know more about the brilliant minds behind the idea and get to know you better. With this milestone, you have to present your team members and their expertise. Upload to the AI4EO platform the team profile milestone by 24 March 2023, by 17:00 CET!
A complete description of this milestone can be found here.
Milestone 2 – Idea concept
Worth: 300 credits
Deadline: 19 April
AI technologies coupled with onboard processing can change the paradigm of Earth observation on how EO data is captured, processed, and used. Nonetheless, ultimately it depends on which insights can be extracted from that data and how it can potentially improve our lives here on Earth.
What is the potential of your technology for the EO domain?
What are the new insights that can be extracted from your App?
How can it benefit society, business, or the environment?
These are some of the questions that you have to answer in your idea concept!
We seek ground-breaking and innovative ideas for new concepts that are exploring the use of in-space edge/cloud computing and AI to revolutionise the way we do business and science, today and in the future.
Milestone 3 – Initial model
Worth: 500 credits
Deadline: 16 May
We want to see the initial architecture of your software solution and how you considered the unique set-up on which your solution will have to run.
With the points from the first three milestones, you can claim some unique goodies. Check out the below swag that you can win and once you are in the possession of your cool goodies send us a picture with your new win.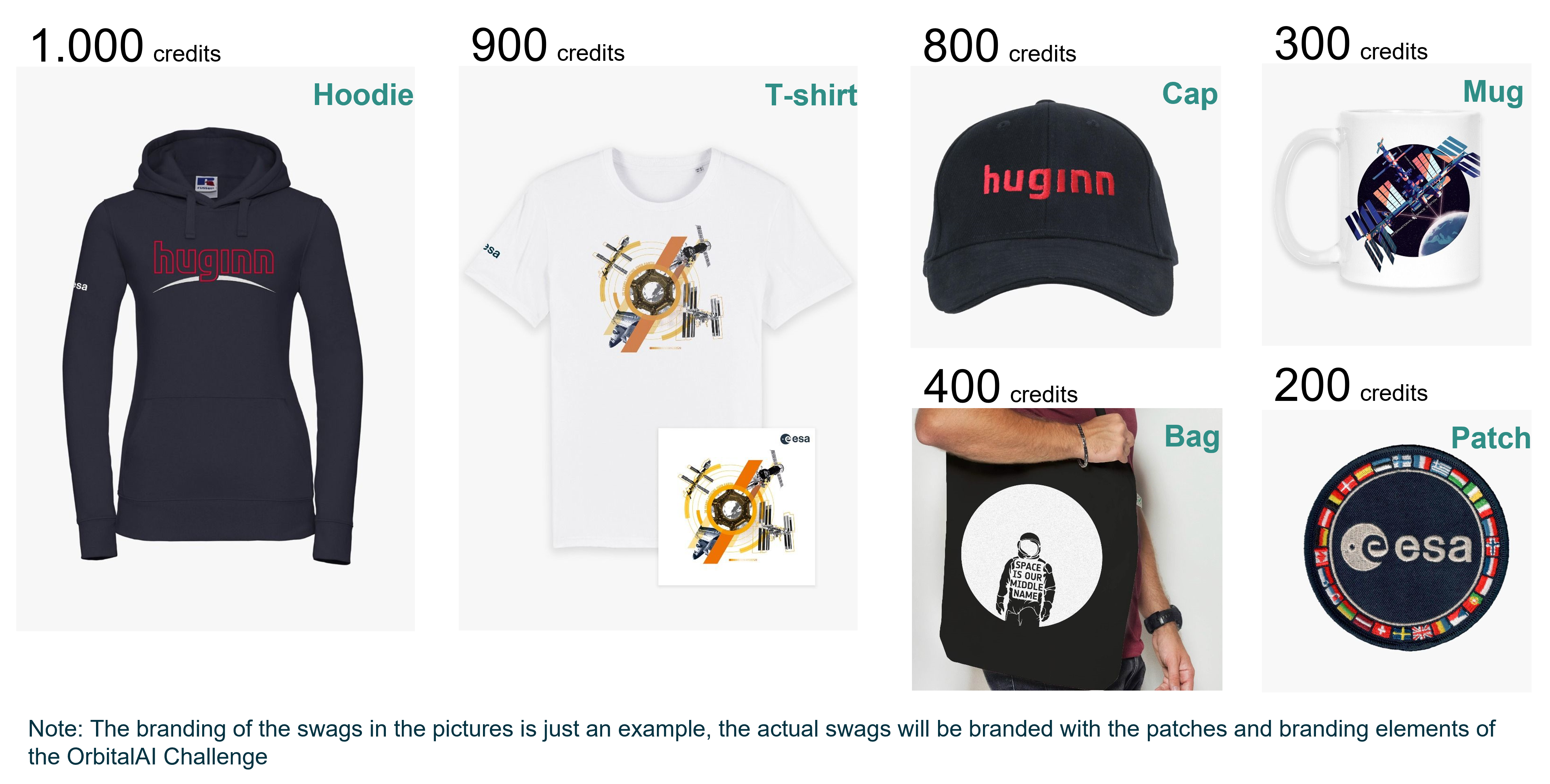 Milestone 4 – Functional prototype
Worth: No credits, mandatory to be submitted for your solution to be evaluated for the top ten teams and to receive the swag.
Deadline: 30 June
We want to check the final version of your AI app in the form of a Jupyter notebook. We'll test it out against our judging criteria.
Milestone 5 – Solution pitch
Worth: No credits, mandatory to be submitted for your solution to be evaluated for the top ten teams and to receive the swag.
Deadline: 30 June
We want to hear why your idea deserves to win. You will have a maximum of 3 minutes to convince us about the potential of your idea and why your team deserves to be part of a space mission. Ready for the challenge?
Final evaluation
Your solution will be judged by a panel of experts against the following criteria:
Suitability of the solutions for solving societal and/or business problems (25% weighting in scoring).
Level of creativity and originality (25% weighting in scoring).
Technical and programmatic feasibility of the implementation (25% weighting in scoring).
Contribution to Open Science (25% weighting in scoring).
Mission stakeholders
Challenge contributors
The Italian Space Agency (ASI) has provided a complete set of PRISMA (Italian Hyperspectral Mission) data that was used in creating the data simulation for the IMAGIN-e Track. We are grateful for their support and contribution to this exciting challenge.