Overview
Space mission awaits: Be a pioneer for in-orbit EO data processing and drive progress on Earth. Join today!
Ever wondered about being part of a space mission? OrbitalAI is here to make that possible. We offer you an exclusive chance to embark on a remarkable journey that explores the boundless potential of in-orbit data processing for Earth's sustainability. Whether you're a tech aficionado, a creative thinker, or a scientific enthusiast, we welcome individuals from diverse backgrounds to join us in advancing the future of Earth observation (EO).
Imagine developing groundbreaking solutions that harness the power of AI and Earth observation data, propelling progress in business, industry, or science. At OrbitalAI, we believe in the collective brilliance of minds coming together to shape a better tomorrow. If you're selected as one of the 10 finalist teams, you'll have the fantastic opportunity to collaborate with top industry experts, refining your solutions and preparing it for the ultimate launch into space.
This isn't just any opportunity—it's a chance to leave a significant mark on the quest for Earth's sustainability. By becoming a part of our global initiative, you'll play a vital role in advancing the frontiers of science and protecting our precious planet. Join us and set your imagination free! Don't miss this once-in-a-lifetime opportunity to be part of something truly important.
The big prize
At the end of the challenge 10 teams will be selected. Those ten teams will work closely with the space mission experts and will go through a second selection that will determine the best two teams that will eventually have their solutions launched into space.
Besides the chance of having their solution onboard a satellite, we will reward the 10 teams with various prizes ranging from invitations for visiting researchers to vouchers for computation or access to premium data. Stay tuned as we are going to announce the complete pool of prizes soon.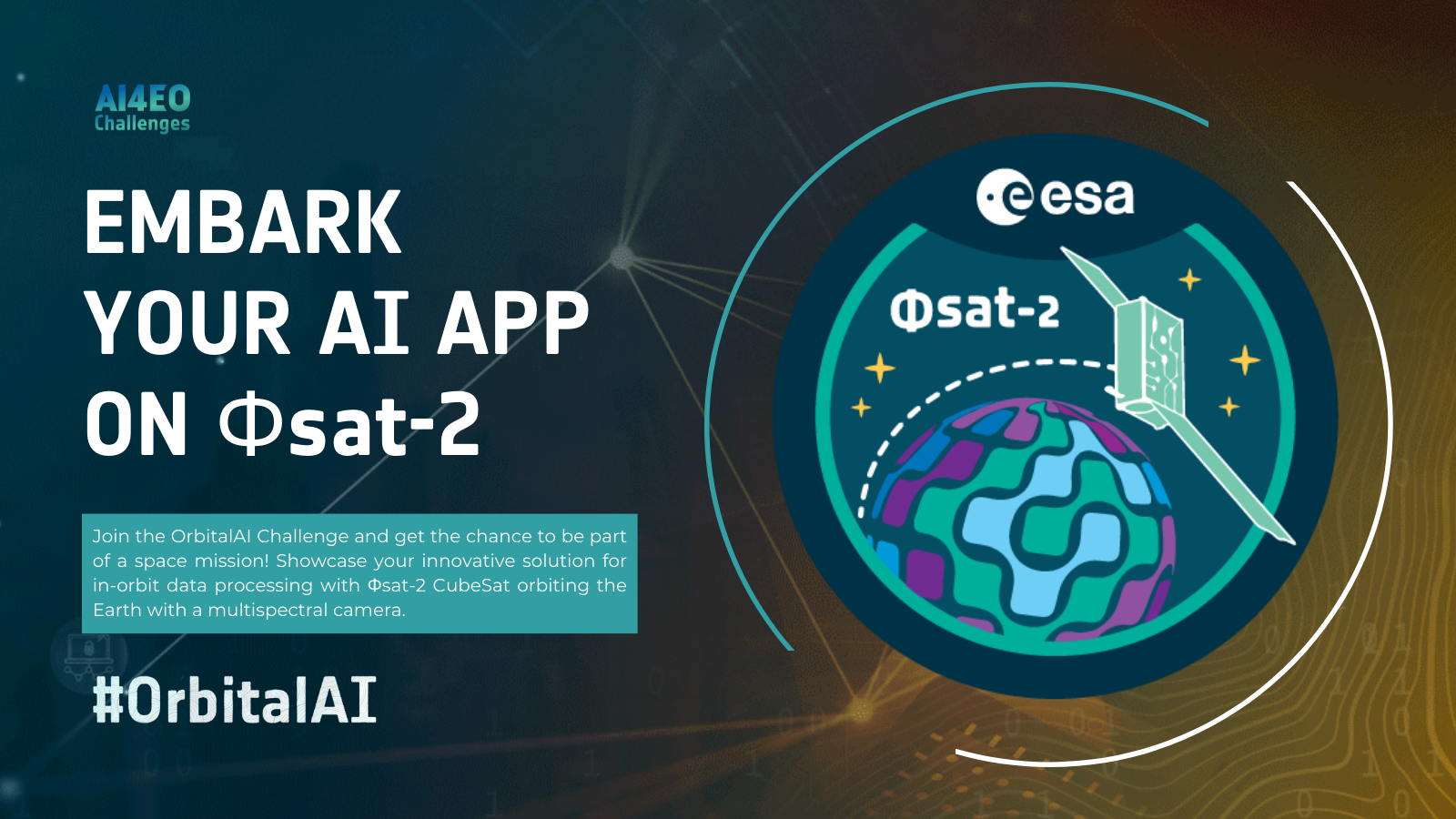 Context
The European Space Agency (ESA) has an exciting vision: creating a thriving ecosystem of Earth observation applications using edge computing in space. This groundbreaking challenge addresses the current obstacles in the flow of Earth observation data and paves the way for the next generation of applications.
By employing advanced AI techniques to process data directly onboard spacecraft, we can unlock the immense potential of onboard intelligence for Earth Observation. This approach promises enhanced efficiency, agility, autonomy, and reconfigurability in EO. Onboard processing in satellites is revolutionising space data by enabling faster and more efficient data transmission, reducing the dependence on ground-based processing, and enabling real-time decision-making.
In EO, end users require valuable insights and optimal decisions with minimal delay. That's why significant research efforts have been dedicated to exploring onboard intelligence for EO applications, such as early detection of natural disasters, vessel incidents, and gas leaks. Onboard intelligence empowers us to identify low-quality EO data, such as cloud-covered satellite images or remote sensing images with limited relevant information and discard them. This not only saves costs but also minimizes the need for data transmission to Earth.
To provide you with concrete examples of the capabilities of onboard processing, explore the following AI applications that have been developed and are planned to be onboarded the Φsat-2. For detailed specifications of the mission, please refer to the scientific notice.
Sat2Map App – This app utilizes AI, specifically Cycle-Consistent Adversarial Networks (CycleGAN), to transform satellite images into street maps, enabling the generation and delivery of near real-time mapping data.
Vessel Detection App – This app will showcase the autonomous development of vessel awareness in the maritime domain through the utilization of Artificial Intelligence (AI), employing deep neural network techniques for both vessel detection and classification.
These examples are just the tip of the iceberg, and we can assure you that with your input the possibilities are boundless.
If you want to gain more knowledge about this competition and how to build your prototype you can check our training webinars:
Who can participate?
Any person, start-up, or large enterprise with an innovative mindset and ideas is invited to join this track of the OrbitalAI Challenge.
Age
All participants must be 18 or older to be eligible to participate in the OrbitalAI Challenge.
Team
Teams must consist of a minimum of 2 and maximum of 5 people.
Geography
Applications will be accepted from anywhere in the world. For full information about the conditions of being part of the top ten winners, check our Rules section.
Important dates
Phase I: The open competition
During Phase I, participants will submit their best solution in the form of a Jupyter Notebook together with a PowerPoint presentation, saved as a .pdf file, and a pitch video of their solution.
After the first phase 10 teams will be selected for the next stage.
The deadline for application is 20 September 2023.
Phase II: Incubation & production release
This phase will start in October 2023.
During the second phase, the selected teams will work on their solution together with the Φsat-2 consortium led by Open Cosmos and the Φ-lab team. The solution will be tested and verified on conditions with Φsat-2 configuration and integrated within the NanoMO framework.
In the end, 2 teams will have their solutions launched into space.
Final evaluation
Your solution will be judged by a panel of experts against the following criteria:
Suitability of the solutions for solving societal and/or business problems (25% weighting in scoring).
Level of creativity and originality (25% weighting in scoring).
Technical and programmatic feasibility of the implementation (25% weighting in scoring).
Contribution to Open Science (25% weighting in scoring).
Mission stakeholders